Welcome to the, "Soredemo Sekai Wa Utsukushii" Wikia!
Welcome to the "World is Still Beautiful" Wiki! This is a wiki for all the fans of The World Is Still Beautiful. Please be aware that this Wiki contains SPOILERS.
Synopsis
In the Sun Kingdom, sunshine is part of its citizens' everyday lives, and rain is something that they have never even heard of. However, in a faraway land called the Rain Dukedom, the weather is reversed, and everybody has the power to create rain with their voices.
Livius Ifrikia has conquered the entire world and expanded the Sun Kingdom's influence in the three short years since he was crowned king. Upon learning about the powers to create rain, Livius decides to marry, one of the princesses of the Rain Dukedom. After losing to a rock, paper, scissors game Princess Nike Remercier was chosen to leave her home to be married to Livius. However, those outside the Sun Kingdom have spread a rumour that Livius is a cruel, ruthless, and tyrannical ruler, and as word reaches the princess, she begins to prepare herself for the worst. But when she finally meets her fiancé, Nike discovers that he is an entirely different person from what she originally expected.
Characters
Featured Article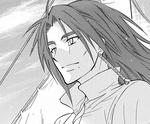 Nephero Styx Lethe is the monarch of the Grand Sky Duchy and is also known as the "Crimson-Haired Grand Duke." Read more >>
We are currently editing over 52 articles since November 2010.
Careful: This wiki contains spoilers, read with caution!
---
About • Policy • Administration • Templates